From data to XBRL in less than 10 minutes ?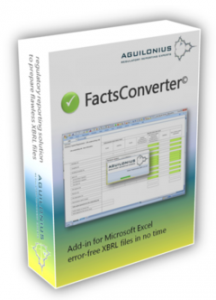 YES, this is possible with FactsConverter©, made by Aguilonius, XBRL expert since more than 10 years.
FactsConverter© is an easy-to-use but advanced and secure software which is hosted on Microsoft Excel. The tool enables you to prepare your reports directly in Excel workbooks and to convert data in the XBRL format. Its modular approach allows you to deal with only specific parts of an installed reporting framework, such as EBA's CRDIV frameworks or EIOPA's Solvency II frameworks.

FactsConverter© will assist you in the validation of your data against the rules available in the underlying XBRL taxonomy and enable you to generate 100% flawless XBRL files to pack and send to the supervisor.
Please contact info©aguilonius.com or request a download of a 90-days trial version, here.