XBRL Factory SE.
All the benefits of FactsConverter©, in a server-based jacket?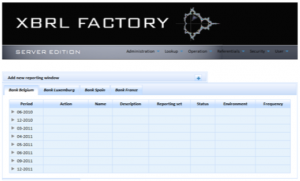 XBRL Factory-SE is a flexible and yet powerful server-based solution to collect and validate reporting data in both XBRL and XML, for seemless reporting of COREP, FINREP, SOLVENCY, SCHEMA A, etc…
Aguilonius supports multiple databases and interfacing standards.  More information on request!

Disclaimer: Aguilonius has developed its "XBRL Factory SE" software since 2007.